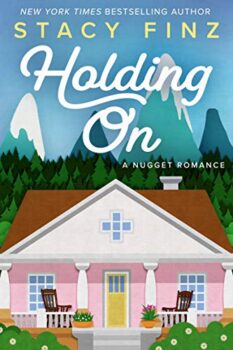 Nugget Romance #12
May 18, 2021
Kensington Publishing (Lyrical Press)
Available in: e-Book
Holding On
In New York Times bestselling author Stacy Finz's Nugget romance series, a picturesque California mountain town is the perfect place for fresh air—and fresh starts, especially when it comes to love.
One divorce, one mind-blowing kiss with a stranger (code name: Matthew McConaughey), and one year later, Joey Nix desperately needs to find a job in Nugget. It's the only chance she'll have of sharing custody of her sweet little daughter with her soon to be remarried, renowned surgeon ex-husband. Luckily, Joey's qualified to work as an in-home caregiver. Coincidentally, a job offer comes from the afore mentioned unforgettably sexy stranger (real name: Ryder Knight). It's a terrible, irresistible idea . . .
Ryder needs help with his ailing, depressed mother, and darn if Joey isn't the best candidate. Good thing he'll be sleeping in his camper, because their chemistry is still crackling. Besides, the loss of his wife and unborn child five years earlier have left Ryder squarely focused on his trucking company—and even that's on shaky ground. Still, Joey knows how to lift his mom's spirits. And his too—despite a troubling secret she's shared with him. But when she asks him to accompany her to her ex's wedding, Ryder "I don't do weddings" Knight will have to do a lot of soul searching. What he discovers just might surprise them both . . .