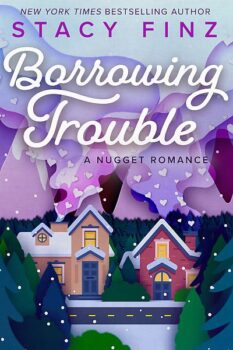 Nugget Romance #6
February 2, 2016
Kensington Publishing (Lyrical Shine)
Available in: Audio, e-Book, Trade Size
Borrowing Trouble
In the beautiful mountain town of Nugget, California, staying out of the limelight is easy, but staying out of love is a bit more challenging…
Back in Los Angeles, Sloane McBride was a great police detective, but after she uncovered corruption on her own squad, the job became nearly impossible. In the bucolic hills of Nugget, she can start to imagine a life after all that, where she keeps her head down, does her work, and doesn't bother anyone. But her delicious next door neighbor isn't going to make it easy to keep to herself…
Brady Benson's wildest dreams came true in LA—but they were paired with a living nightmare. As executive chef of a searing-hot restaurant, he was lauded, adored… and then found himself caught in the sights of a lovelorn stalker. Now, laying low in Nugget, he finds his own heart ensnared by the beautiful new cop with her own reasons to start over.
Neither Sloane nor Brady came to town looking for love, but it seems to have found them. Trouble is, so have their pasts. And they'll have to stop hiding from both if they hope to come out the other side together…
STEALING A KISS
"I bought locks for all your windows and dead bolts for your doors. The security in this place stinks. So as a precaution, I'd like to install them tomorrow."
"Brady, that was very thoughtful of you," Sloane said, "but I'm perfectly adept at taking care of myself."
"I have no doubt about that. But sometimes a man likes to feel useful. Humor me, would you?"
"Since I wouldn't want to put a crimp in your manhood"—she tossed him a wicked smile—"then go ahead and get your tools out and do what you need to do."
"Yeah?" Brady leaned over to kiss her. Just something quick and sweet in case he'd misunderstood. But when she opened her mouth for him and slipped her arms around his neck, he went all in. It was a supremely bad idea, but he couldn't help himself . . .
back to Top