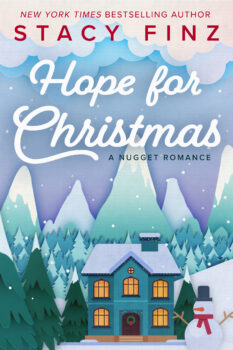 Nugget Romance #9.5
October 10, 2017
Kensington Publishing (Lyrical Press)
Available in: Audio, e-Book
Hope for Christmas
This Christmas in snow-capped Nugget, California, the gift of a second chance is all anyone can wish for . . .
Sparkling lights, sugar cookies, a fragrant tree—Emily McCreedy is checking off her list for a perfect holiday with a new baby on her hip, two adorable stepsons hunting for presents, and her husband's love shoring up the life she rebuilt after the unbelievable tragedy of losing her young daughter to abduction seven years ago.
But the merriment dims when Emily receives a strange note alluding to her daughter's disappearance. Emily's sure Christmas miracles are only for TV movies, but with each new communication, she finds herself face to face with the one thing that matters most—hope.
Emily stood by the window admiring her husband. He'd been the eligible heartthrob of Nugget before she'd come along and snagged him. Tall, dark, blue-eyed, and handsome. Emily suspected women still appreciated that fine form of his. Lord knew she did. After Hope was abducted, her marriage with Drew fell apart. She'd had no delusions—or desire—of ever finding love again, too despondent over her daughter's disappearance. And then she'd moved to Nugget and it happened. Just like that. Clay—and the boys—had given her a reason to strive for a good life again as opposed to the painful existence she'd been leading.
To this day, she didn't believe she deserved him or a second chance at having a family. Yet, she planned to hold on to all of it with both hands.   
She turned on the nanny cam and went back in the kitchen to finish her preparations before changing for dinner. Clay came through the door into the mudroom, took off his boots, hat, and vest.
"You were out a long time," she said. "Everything okay?"
"Yeah. A tree fell over in the west range and took down a good portion of the fence that faces the road. I wanted to get it fixed before the snow comes. Tomorrow, I'll take a chainsaw to that tree. There's got to be a quarter cord of firewood there."
"Can you get the truck to the spot?"
"Yep. How was town?" He came in, kissed her, and stole a few carrot slices she'd cut for the salad.
"Good. Unfortunately, Annie and Logan are out of town for our little dinner. You should shower and change before the neighbors get here."
"Will do." He filched an apple slice, then rifled through the stack of mail she'd stacked on the counter. "Nothing weird?"
"Nope. Thank goodness."
"I see Drew sent a Christmas card." He lifted his brows and pulled a face. Clay wasn't a fan of her ex, which was ridiculous because Drew was one of the best men she knew.
"I'm sure Kristy sent it." Drew wasn't the greeting-card type.
"We don't need to send them one, right?" 
She just fixed him with a look. The phone rang and Emily checked to see who was calling.
"It's the McCreedy Ranch line," she told Clay, who had already started for the staircase.
"Can you tell whoever it is that we're closed for the holidays."
Emily would do no such thing. Christmas was still two weeks away, plenty of time left to sell beef cattle. "McCreedy Ranch, can I help you?"
When no one responded on the other end she said, "Hello. Anyone there?" Emily knew someone was because she heard breathing. Weird breathing, like the caller was struggling to talk. "Are you okay?"
She checked the phone's display again to see if there was a number, maybe a distressed neighbor in need of help. But all that appeared was the word "private."
"Hello?" she said again.
"I. Have. Hope," the caller said, and Emily could feel the blood draining from her face. 
back to Top