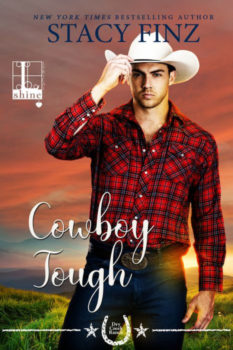 Dry Creek Ranch #2
February 4, 2020
Kensington Publishing (Lyrical Shine)
Available in: e-Book, Trade Size
Cowboy Tough
Five hundred acres of gorgeous California land is a life-changer for cousins Cash, Jace, and Sawyer—and a surprising chance for each of them to find a game-changing love . . .
Sheriff Jace Dalton's plate is piled high even before he discovers a stranded motorist just a few miles from his home. With two lively young boys to raise, a challenging reelection to win, and a hefty tax bill due on the ranch, all he wants at the end of the day is a shower and a cold beer. But the woman in the packed SUV clearly needs his help—and though she's a stranger, Jace finds himself wanting to turn her haunted look into a smile . . .
Fleeing her abusive boyfriend, Charlotte Holcomb thought she'd escaped before she lost everything, but more heartache was to come. Now, sidetracked by a brewing storm, Charlotte has to trust the handsome sheriff. Just one night, she tells herself, before she's on her way again. But when gentle Jace and his kids offer the kind of sanctuary she never imagined possible, it's hard to say goodbye. Soon the two wary strangers are becoming friends, and longing to open their hearts to more—if they can move beyond the pain of their pasts . . .
She turned in her seat to face him. "If it hadn't been for you I don't know what I would've done. I probably would've gone crazy."
"Nah, you're a fighter and Corbin, he's a coward." A dead coward if Jace ever got his hands on him. Okay, Jace wouldn't really kill him but he'd like to make him suffer.
He leaned across the cab and kissed her. Just a sweet peck on the cheek, but Charlie turned and took his lips, cupping the back of his head with her hands to kiss him deeper.
Jace reacted and kissed her back. Long, slow, and thoroughly. When she didn't resist, he kept going.
She tipped her head back against the seat and he went in for more, drunk on the taste of her. Her hands came around his neck and he pressed her deeper into the seat, bruising her lips with his, winding his hands through her hair. Kissing her into tomorrow.
He shouldn't have. It was wrong on about a thousand levels.
Yet, he couldn't seem to stop himself. She felt so good—curvy and warm and feminine—and responsive, returning his kisses with equal passion. He could make her feel good too. Take the hurt away if she'd let him...
back to Top