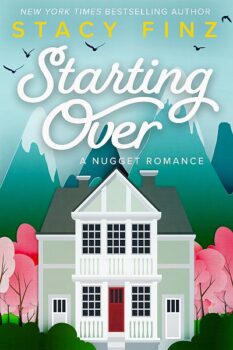 Nugget Romance #4
August 18, 2015
Kensington Publishing (Lyrical Shine)
Available in: Audio, e-Book, Trade Size
Starting Over
The mountain town of Nugget, California, may be tiny, but with its breathtaking scenery, fresh air, and lovable locals, it has everything. Not to mention it's the perfect setting for firsts—and seconds—of all kinds…
On the day of her glitzy New York City wedding, society girl Samantha Dunsbury ditches her Wall Street groom, and hops in her convertible. Her only plan is to head west. But when a pit stop lands her at a lovely Victorian inn in Nugget, she doesn't want to leave. And when the innkeeper needs someone to fill in, Sam is thrilled to take the job—her first! For once, she's going to do what makes her happy. She just has to figure out what happy looks like. She never expects it to look like her surly new boss…
The last thing Nate Breyer needs is a debutante dilettante mucking up his business. How his sister—and co-owner—could've hired Sam is beyond him. Nate's known women like Sam before—he was engaged to one once. With no options, he'll just have to keep his eye on her while also keeping his distance. But to his surprise it turns out Sam's got a knack for the job, and for putting folks at ease—including Nate. As business—and pleasure—heat up their relationship, Nate finds himself ready to do anything to persuade the runaway-bride to stay permanently gone…
MIXING BUSINESS WITH PLEASURE
"I heard you talking to Tracy today," she slipped in. "Anything going on?"
He shook his head. "Nothing more than the usual craziness."
"Are you and Tracy . . . a thing?" She couldn't help asking. Besides it not being her business, why should she care? Other than the kiss, of course.
"Why? You jealous?"
"No . . . don't be silly. Of course not."
Brows up, he said, "I don't fool around with employees." Ha, Sam laughed to herself. Not unless he was kissing the breath out of them.
"But if she weren't your employee—?"
"Not my type."
"What is your type?"
"Physically, you. But everything else about you is wrong."
She flinched. "That was an awfully mean thing to say."
"I bet Royce doesn't think so."
She got to her feet, but before she could walk out on him, he pulled her into an embrace, crushed her against his chest and kissed her until the world seemed to turn on its axis. Ravenous, his mouth moved over hers, plundering. He tasted like wine and man and she could feel his heat and hardness pressing against her.
"I don't want to do this," he whispered against her mouth.
"Then stop." He made her so crazy with desire she could barely find her equilibrium.
"I can't . . ."
back to Top